Selfie Stick – The must have Gadget in 2015 and Beyond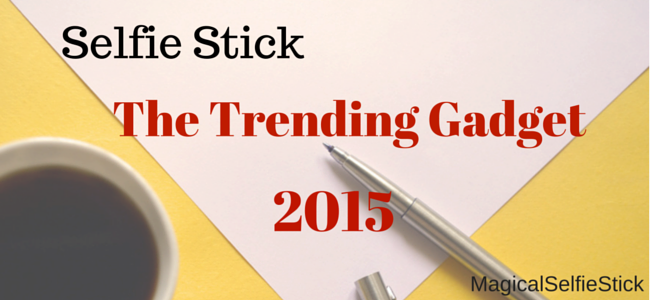 Selfie, a common term which refers to taking your own photo using a camera by yourself, is well-known especially since 2012. It's one of the most trending topic even until today as shown in Google Trend, Social Media metrics and so on.
Lately, selfie has been brought up to a higher level by the newly invented selfie stick. Statistics show that the searches for selfie stick and it's related topic are increasing steadily over the months since June 2014.
Exclusive: There are already more than 130,000 selfie stick hashtags in instragram while Twitter is chasing up with many retweets regarding this main term. Sounds pretty amazing, right?
So… what is a selfie stick by the way?
Just in case you do not know what this gadget is, I will briefly explain on it. This magical gadget is a long stick with a handle to grab your smartphone/camera in place. It is something like a monopod, however it is made specially to be held in your hands.
For your convenience, I have written an overview to help you understand more about this great gadget. Feel free to drop by at my post "What is a selfie stick". (If you already know what a it is, then just continue reading:D)
Why is selfie stick going viral?
Currently, many people are debating on this hot issue, "why is it so popular?"Is it just a trending gadget or is it something that really offers real benefits to human?
In my opinion, selfie stick is definitely a trend. However, besides being a trend, it offers real value to its users (selfie fans which now includes adults and celebrities).
To understand more why this great gadget is becoming more popular and the popularity is expected to last, lets look into the benefits it offers.
What benefits do selfie stick offers?
As we already know, most selfie sticks can be extended up to 3 feet allowing you to take group selfies easily. This is one of the most important reasons why it is a must have gadgets especially if you love touring around taking photos.
Just recently, me and my family went hiking with my aunty (she is a selfie fan and she looks pretty young too). We wanted to take a family photo together (which is about 6 of us) but there are no one else around to help us.
Do you see now how this magical stick comes in handy?
Other than these benefits, it actually brings much more benefits than you can ever imagine. However, if I were to go in detail, it would turn out the be very very long. If you are interested to learn more about these benefits, please visit my post "7 Benefits of Selfie Stick that you must know" for a detail explanation regarding this topic
Some disadvantages of selfie stick
Having said that selfie stick is indeed very beneficial to mankind, some people do not fancy this stick. The question is why?
In some outings, I do find it a little troublesome to be brought along (especially if you are not carrying a backpack with you). You have to always carry a stick everywhere you go.
If the main intention of the trip is to take memorable photos with your friends or families, then this extednable stick is indeed very useful. However, what if we plan to play hard?
For instance, if we visit a theme park, most of the games and rides do not favor you to carry a selfie stick along. (This is my personal opinion though, I do see people taking selfies with a selfie stick while riding the roller coaster, LOL)
Conclusion, is selfie stick a must have gadget in 2015?
Well, if you are a selfie fan or you love touring around taking pictures, this helpful gadget is definitely what you need (although sometimes it is quite troublesome).
Having one doesn't mean that you need to take it along with you every single place you go. Use it when you feel it can help you. After all the price is affordable though. Having one around is definitely great because you wouldn't know when you need it!
Where to get yourself a selfie stick?
Before actually wandering where to get it, first understand which type of selfie stick suits you (there are many different kinds of them out there in the market ranging from $4 to around $80).
I strongly recommend that you visit this page, "Selfie Stick Review Resource Center" here where it shows you clearly the features and characteristics of different kinds of them.
Once you know what type suits you most, then you can start to compare the brands in the market to get the best deal around with variety of colours to choose from (which also will be guided in the page above).
Disclaimer: I can just put an amazon link here and link you directly to amazon and then get my commission right away without having to take the trouble to create a review website for you.
So why I show you step by step in choosing your own selfie stick? Because I don't want you to regret about it later. I want to make sure you know everything about the product before you purchase it.
I have spend quite an effort in setting up the review section for you, so please visit it before you go on choosing your very own one!
Subscribe to our newsletter
Hey, the post is informative? Stay updated to our latest post by subscribing our RSS feed/newsletter. There will be no spams whatsoever, this service is provided by Google!
Subscribe in as a reader
Q & A Session
Do you have any questions regarding the topic? Feel free to share with us!
We would be really happy if we can help you in any ways.
Please share this post with your friends by clicking the share button below!
Email me : shaunwong0311@gmail.com