Compatibility (9/10)
This selfie stick is mainly compatible with various devices (cameras and smartphones). For cameras that have the tripod mount socket, you can screw the camera on the selfie stick as shown below. The only problem is that the bluetooth function that this product offers won't work with cameras (only smartphones). You will probably have to use the timer function to snap your photos.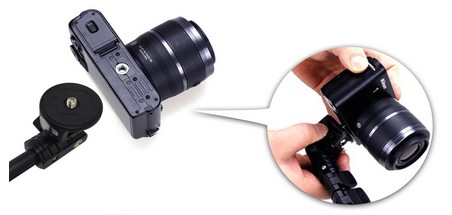 Basically, this product is compatible with most types of smartphones out there including iPhones and Androids. In order to use the bluetooth shutter that comes along with the selfie stick, your smartphone must be at least IOS 6.0 or newer or Android 4.22 or newer.
Note: IOS is related to iPhones while Android version is related to Android phones such as Samsung, Lg, Htc and other related brands.
You will just have to make sure that the width of your phone is between 2.2 inch to 3.4 inch (5.6 cm to 8.6 cm) than your phone should fit perfectly. Just in case, casing might need to be removed for large phones such as iPhone 6+ or else it might not fit well.

Features (10/10)
This selfie stick comes with some great features to improve your selfie experience.
Comfortable and sturdy handle - Made of soft pad which makes it more comfortable besides making it less slippery. To further improve your experience, the handle is made to fit your 4 fingers perfectly to enhance the gripping effect. Look at the diagram below.

Extendable selfie stick - Allows you to extend the selfie stick to 4 different lengths to your liking with the maximum length extended up to 34 inches (excluding the handle and phone holder) for great selfies. When not in used, the extended part of the stick can be contracted (to around 7 inches) so it can be brought around easily.
180 degree rotatable phone holder - The phone holder allows you to rotate your phone in a vertical manner (to adjust the angle of the phone). It does not allow you to rotate the phone holder horizontally.
Bluetooth shutter - This selfie stick comes with a bluetooth shutter, which allows you to take selfies just by press the button on the bluetooth shutter. For those who doesn't want the button to be on the stick, this product might be a great alternative. Furthermore, the bluetooth shutter of this product seems to be much more beautiful.
Note: The reason why some people don't prefer the button to be on the stick itself (inbuilt-bluetooth system) is because their hand might tremble while pressing the button which makes the picture blur.
Safety String - There is a safety string connected to the handle of the selfie stick and also the bluetooth shutter. These strings are hanged over your wrist as an extra security measure.
Price (6/10)
Check at Amazon for latest price
Durability (10/10)
The durability of this product is perfect. It is made from Aluminum+ABS Material which improves the durability of the stick. Besides, at each extending point, the stick comes with a locker to make sure that it doesn't move or break. Look at the picture on your right.
Furthermore, there are basically no bad reviews about this selfie stick at it's product page. The problem is the supplier combined 3 product in a product page. And we had confirmed that most of the bad reviews (the stick broke or not functioning) are from the two cheaper products.
Note: This selfie stick is made to support large cameras (something like a monopod). Therefore, supporting large phones such as iPhone 6+ shouldn't be any problem.
Consumer's Rating (9/10)
This product has an average rating of 4.3 stars from around 300 reviews in Amazon. This is great because a large number of customers are extremely satisfied with the product which indirectly acknowledge the quality of the product.
Although having an average rating of 4.3 stars in Amazon, this doesn't reflect the actual rating of the product (as mentioned above, the supplier combined 3 products in a product page which means that the reviews for all 3 products are combined).
After studying those reviews, we came to a conclusion that most of the low rating reviews (1 star and 2 star) are commenting on the other 2 products. This product deserves a 10/10 consumer's rating, but just to be on a safe side, we gave it 9/10 (because we can't determine accurately due to the mixed customer's review).
Customer's Support (10/10)
This product comes with professional customer's support. They (those suppliers) have their own customer's service team which is open during office hours. If you have any queries or dissatisfaction, you can contact them through their number which is included when you buy their product.
This is good because you do not need to wait for email replies or taking the trouble to contact them through Amazon product support center. You get to go straight to their customer's service department to get things done faster.
In addition to that, they are willing to refund you 100% or send you a replacement product if you are unhappy with the original one.
Choices of Colors (5/10)
There is only one color to choose from - black. This product is mainly catered for professionals whereby the suppliers knew that most of them aren't particular about colors, in fact they prefer black. The whole look of the stick is great, just that there are no choices of colors to choose from - just black.
I just want to show you that this product has an elegant and professional look.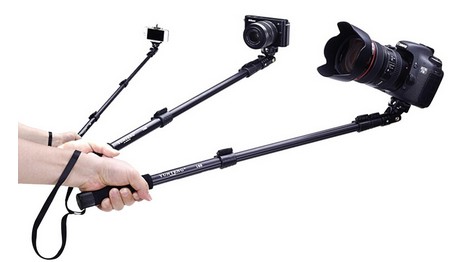 User Friendliness (9/10)
This product is extremely user friendly -
1) Comes with a lot of additional items. This selfie stick comes with many additional items such as a pouch, a USB charger cable (to charge the bluetooth remote), lens cleaning cloth and a tripod adapter for gopro cameras.
2) No need to download extra camera app. Normally for other smartphones, you will have to download a camera app for the bluetooth remote to work. However, I still recommend you to download Camera Apps such as Camera 360 to improve your selfie experience.
Bonus: Some apps such as CamMe allows you to take picture using gestures. To learn more, check out the 10 Great Ways to use a selfie stick.
Conclusion
This selfie stick product has a recommendation level of 5/5 (extrememly recommended). This product is certainly worth the buy although the price might be a little high. This product is especially suitable for those who enjoy taking photos - not just for the sake of taking photos.
Having that said, the high durability of the product makes it ideal for those who plan to use it regularly for a fair amount of time.