10 Great Ways To Use A Selfie Stick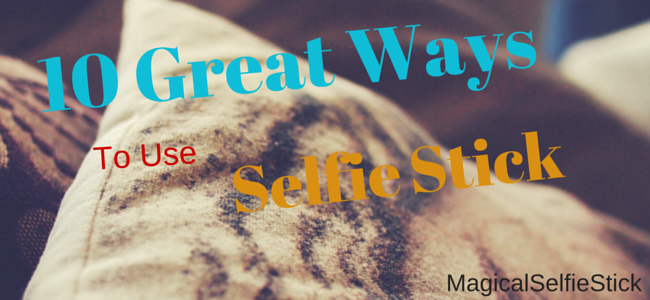 Read on and I will be revealing to you the 10 great ways to use a selfie stick that probably you wouldn't have came across before. I promise that these ways will definitely improve your selfie experience by venturing into new and fun things.
I will not bore you with those normal functions of a selfie stick such as taking group photos. This is what everyone knows and I don't want to waste your time elaborating about it anymore.
#1 Record videos using selfie stick
I am sure most of you that own a selfie stick tried taking pictures before. However, have you ever tried recording a video using a selfie stick? Taking videos with your device on a selfie stick will definitely be a new and exciting experience for you.
Taking videos can be a better alternative to treasure memorable moments as compared to pictures. For instance, taking group videos during vacations is a better approach than merely having a few group pictures because video consists of various movements and voices.
Try something new makes taking selfies a much more fun activity.
#2 Use a Selfie Stick to capture beautiful background
For those that love traveling, I am sure you guys came across beautiful and astonishing scenery at most of the tourist spots. And in most cases, there will be a photographer around offering to snap a great picture of you.
This is great…only if it is free! If you don't take up the offer, it is really hard to snap a photo whereby both you and the beautiful scenery are in the picture. This is when your selfie stick comes in handy. The extended stick (up to 3 feet) allows you to take photos from quite a distance.
It is common to see people showing photos of the places they visited after returning from their vacations. The problem here is that there are not in most of the photos – only the scenery. Make use of your selfie stick to snap great pictures of the scenery – with you in the picture too.
#3 Taking selfies using gestures
Taking selfies using gestures (such as waving your hand, smiling, or any other relevant signals)  is a great way to use your selfie stick (especially if you are using the most basic kind of selfie stick where you rely on timer to take selfies).
I am sure you will be having a great time taking selfies using gestures because I myself was excited when I first knew that there are apps that support such functions through a website which teaches people to take selfies using a selfie stick without remote functions.
Some apps which support this function includes
GoCam – for iPhone/iPad, capturing pictures based on recognized hand gestures
SelfieCam – for iPhone/iPad, automatically takes a photo when you smile
Whistle Camera – for Androids, automatically takes a photo when you whistle and then smile
#4 Take selfies with high definition devices
Have you guys heard of megapixels? It's a spec of a camera/smartphone where it determines the quality of a photo. Generally, a higher megapixel means photos of higher qualities (clearer).
If you are using your selfie stick with high definition devices, you will see better results. This is because when you are taking pictures from quite a distance (the stick is fully extended), the pictures might be blur if you are using low definition devices.
Generally, all cameras are good enough (they are made to take pictures, so their qualities are great). For iPhone, I would recommend iPhone 5S and above. Androids like Samsung Galaxy (3,4,5), Samsung Note (2,3,4) and other famous brands (such as Sony, Lg) are great too.
#5 Snap photos using a belfie stick
We are so familiar with selfie stick (I assume), but what exactly a belfie stick is? A belfie stick is similar to a selfie stick except that the stick is bendable. Snapping pictures using a belfie stick can be a lot more interesting because it allows you to,
Take pictures from various angles – You might want to see how your body looks like from the back or how your hair design (back portion) looks like. These tasks can be now accomplished by using a belfie stick instead of asking people around how you look like from the back.
Taking selfies without the stick in the picture – It is difficult to take selfies (using a selfie stick) without having a small portion of the extended stick in the picture. I would suggest getting a belfie stick if you dislike the stick to be in the picture.
#6 Selfie sticks as great gifts
No, I am not asking you to give away your selfie stick as gift to your friends or relatives. I am just telling you that selfie sticks can be a great gift to be presented to your close ones on special occasions (Christmas, Birthday, New Year, any other related occasion). Why it is a great gift?
Everyone loves it – Selfie stick is a gadget that most people enjoy having. Teenagers love to use them for selfies while adults use them for traveling. No more straining your head thinking what present to get, a selfie stick is what everyone wants.
Reasonable price – You can easily get a selfie stick for around $20 (there are even cheaper ones, but the quality is bad). Now, if you really want to choose a suitable selfie stick as gifts, consider checking out our Selfie Stick Review Resource Center for access to more than 30+ selfie stick reviews
In fact, getting selfie sticks as gifts isn't a new idea. Many people out there are already doing the same thing. Look at the screenshot below.

#7 Taking selfies using cameras
80% of those who use selfie sticks are using smartphones for their selfies. Consider using cameras for a change, it will be a whole new experience for you. This is because a camera has a lots of functions that a smartphone doesn't have. Some functions include
Shutter speed – The amount of time for which the shutter stays open. The longer this duration, the higher the chance of you, or the subject moving, and subsequently producing a blurred image.
Sensitivity/ ISO – The 'gain' or amplification on the signal from the sensor. Doubling the ISO doubles the gain, which in turn doubles the shutter speed.
White balance – The neutral color point of the image, or the RGB gain mix required to achieve white under a particular ambient lighting situation.
These are just a few functions of a camera. To learn more about the functions of a camera please visit this website.
#8 Take pictures of things you can't see
My mother keeps her gold jewelry on top of a cupboard – really high. She often asks me to check on her jewelry to see whether if it's still there (she is afraid if a mouse steals her jewelry LOL). I will have to carry a ladder up to the second floor in order for me to check on it.
Last 3 weeks, my mum asks me to check on the jewelry again. I was about to go downstairs to carry the ladder when I suddenly thought of a great and simple way to do the task. I extended the selfie stick to it's maximum length and snap a photo of the area above the cupboard.
Isn't it a brilliant way? I know not everyone around here needs to check on things above a cupboard, but I thought you might find it useful one day.
#9 Taking selfies using bluetooth function
If you have been relying on timer all this while, you should really consider getting a bluetooth shutter -a device that allows you take pictures just by pressing the button on the device. It is a more convenient way for taking selfies especially during vacations.
You just need to get one bluetooth shutter from Amazon which will cost you anywhere around $5 to $10. If you wish to get an in-built bluetooth shutter (the button is on the selfie stick itself), then you will have to get a new stick which cost you around $25.
# 10 Share this post out with your friends!
Yeah, you are right. This isn't a way to use your selfie stick. However, I really hope that you can do me a great favor by sharing this post out with your friends through the buttons on the left. Just for your information, you can get more choices of social sharing buttons by simply clicking the blue crown sign.
I will certainly be very grateful if you were to do me this favor. You will just need around 5 seconds to make it done at no cost at all!
Conclusion
While there are many great ways to use a selfie stick, it's only worthwhile if you invest in selfie sticks that will last. Besides, it protects your phone from falling so you can enjoy taking selfies without worrying.
If you are interested in knowing some of the best selfie stick out there, visit this link.
Subscribe to our newsletter
Hey, the post is informative? Stay updated to our latest post by subscribing our RSS feed/newsletter. There will be no spams whatsoever, this service is provided by google!
Subscribe in as a reader
Q & A Session
Do you have any questions regarding the topic? Feel free to share with us!
We would be really happy if we can help you in any ways.
Email me : shaunwong0311@gmail.com